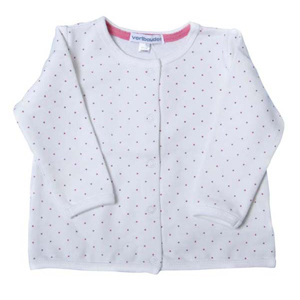 Wholesale Baby Girl Spring Cotton T-Shirt with Button
Size: 0-12 months
Color: White
Material: 100% Cotton
Send Enquiry Now
Product Information
Pattern type: knit
Closure type: Button
Gender: Girl
Style: Leisure
Sleeve length: Long
Description:
This China Factory wholesale Spring Cotton Baby Girl T-Shirt with Button is a newly arrived baby girl clothing, you can wear your baby either inside or outside, and is quite popular in our baby clothing market, young mummies all love this kind. Pure cotton as the fundamental fabric which is fine elastic, soft and hygroscopic, best fit baby wearing. It is breathable, light and comfortable, also it is high elastic to sustain baby's move.
About Details:
Pure cotton make sure of safety, comfort, priority choice for baby clothes.
Fresh color with little dot all over is quite exquisite and attractive.
Cuffs and hem show heart care, great workmanship.
Cute and popular pattern excites baby girl's mood to some extend.
The real boneless cut,no real sense of convex, soft fabric,anti-pilling,anti-static,durable.
Round collar that carefully made is no friction, buttons closure type is convenient but pretty.
Delicate printing tailor details show the quality and considerate and heart care for your baby.
It is machine washable, also it can be a underwear or a coat.