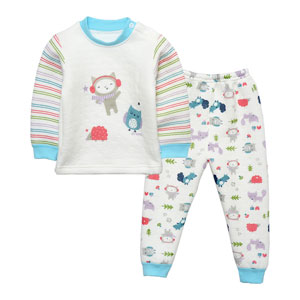 Lovely Cartoon Suit Cute Baby Pajamas Set
Size: 73, 80, 90
Color: Blue, Yellow
Material: outer 100% cotton inner 100% polyester silk
Send Enquiry Now
Product Information
Gender: Unisex
Style No:SL005

Description:
Refined and cultured smooth edge makes zero friction, no deformation after washing. The material of this cute baby pajamas is 100 percent cotton, formaldehyde-free, AZO-free, no heavy metal, no fluorescent agent.

About Details:
The activity of natural color printing technology is green, safe, healthy and comfortable.
Super soft material has high hygroscopicity and breathability, protect baby's skin from damage.
Open shoulder design is convenient for mothers to take it off.
The clothe is slight and comfortable, middle layer makes the clothes more warm.
Cute pattern not only makes the clothes lovely but also fashionable.
The high elastic rib collar design, windproof, care baby's body from getting cold.