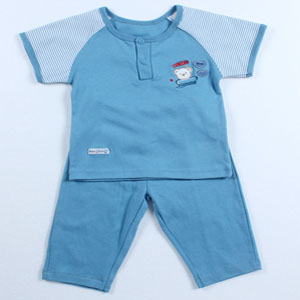 Cute Baby Clothes Summer Autumn Baby Boys' Pajamas
Size: 0-12M
Color: Sky Blue
Material: 100% Cotton
Send Enquiry Now
Product Information
Model Number: QX022
Pattern Type: Stripe
Gender: Baby Boy
Collar: O-Neck
Sleeve Length: Short Sleeve
Description:
1.100 percent cotton overall is super-soft, it also anti-static, quite comfortable for baby.
2. We use selected super cotton which is Eco-friendly, will not stimulate baby's skin.
3. Blue base color combines with strips sleeve and cuff roll embellishes the boy suit clean and pretty.
4. Strip sleeve design with embroidery patterns together combined into a set of exquisite baby boy clothes.
About Details:
Cotton fabric is good choice for baby clothing because of its softness, hygroscopicity and elastic, best serves for baby's activities.
Loose baby boy clothes style wearing in summer offers more comfortable to baby.
Buckle-free snaps on back jacket for quick and easy changes.
Machine washable newborn baby clothing.
Carefully trimmed cuffs and the overall thread gives baby no feeling of friction.
The jacket is loosely made, which is convenient for mother to take it off.
Little strip design with embroidery little picture artfully burnishes this cute baby clothing.
Waist was fastened by a elastic cord which has top elasticity, give more space to move.
Flat and straight sewing not only show its delicacy but also makes baby feel better.