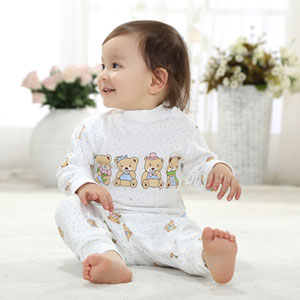 2015 New Front Opening Cartoon Bear Toddler Clothing
Size: 59, 66, 73
Color: Pink, Blue
Material: 100% cotton
Send Enquiry Now
Product Information
Style No: SL003
Gender: Unisex
Description:
The material is formaldehyde-free, AZO-free, no heavy metal, so it is safe for baby to bite. It is 100 percent cotton, soft, light and smooth. This toddler clothing is specially designed for new born baby.
About Details:
Cute dot prints helps baby's cognitive development.
Flat and straight sewing not only show its delicacy but also makes baby feel better.
Soft cotton which has high hygroscopicity and breathability give no damage to baby's skin.

This toddler clothing open buckle type design, convenient for mom to wash, very convenient to put on and take off.

High elastic waist will not hurt your baby.
If you feel not convenient when you're changing diaper, you can open the crotch.